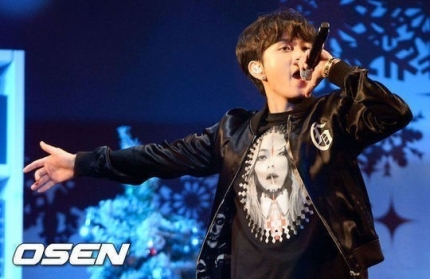 BEAST Yong JunHyung's debut as a soloist expressed his thoughts, "I want to be gain recognition through songs I personally made."
Meeting up with OSEN priod to KBS 'Music Bank' yesterday (13th December), Yong JunHyung spoke, "All these while, I've been producing songs for not only BEAST but also for other artists. As I do so, my greed starts to grow. I wanted to try to produce a song for myself, my only music, my only song…all these thoughts came to me" and, "As to fulfill my desire, I would show one or two freshly completed songs to Representative-nim for a solo opportunity," telling his behind story for his solo debut.
Regarding his solo promotions, he revealed, "I was really nervous. It's not my natural personality, but going on stage solo instead of six… I've been nervous even since rehearsals. But still, I think it's an interesting thing."
He continued, "It's not inconvenient when promoting a lot. It's easy to manage things and felt quieter too. If we're together, we would laugh and be very noisy (laughs). But, recently, I've seemed to know the preciousness of the members' existence."
When asked if the members gave their support, Yong JunHyung said, "I was really tired this morning, Yoseob came to support me. Other members also gave support and asked if I did well in my recording through a messaging chatroom."
Yong JunHyung produces songs that suits his own colors rather thanthe public ears. He spoke regarding the matter, "First impression is important, but if I were to produce songs that suits the public, even if it goes well, I would still want to present something different next time. So, I believe that it's better to go with my own ways", he stated.
Talking about his goals, Yong JunHyung delivered his aspirations, "As I produce this song, I did not have any intention to go after popularity, but I hope that many people would know me as the guy who produces his own songs. I can get awards next time. But for this promotions, I want to receive recognition. If I had the greed to get #1, then I would not promote with 'Flower' (laughs), he answered.
In another interview with TV Daily, the starlet who has been showing consistent results with his composing skills had expressed a different type of aspiration, "You might see me as one who doesn't have any ambition. I don't have a large goal (for this album). I just want to place emphasis on my competence and capabilities as a player on stage", expressing his unusual goals.
"With my solo song, I had to handle 3-4 minutes of song by my own.  At one side, I got more lines and on the other, it seems like I've came to understand the preciousness of my members. In addition, I hope to bring  slight awareness to those who didn't know BEAST."
"There's not such thoughts as 'through this album, I will achieve a lot'. I just want to be recognized as the guy who produces his own songs. Although I hope many would like my songs, but even if they don't, I won't give up either."
"I never thought of getting #1. In fact, it's the end of the year, a time for awards, but I never place anticipation on these matters. I would thank people for saying that this is 'Yong JunHyung's style' and get recognition for my skills. Therefore, I would like to gain recognition first, then next time when I have this chance (to go solo again), perhaps I would try to go for awards. But since this is my first solo project, I will promote diligently."
Meanwhile, Yong JunHyung presented his debut stage 'Flower' on Music Bank and will soon carry out various solo activities.
—
Please take out with full credits
Trans: loveindacube.wordpress.com