Even without meeting the person, you can tell how that person is. Being just a bit biased, mother Woo Jongbun who raised a son like Yoon Doojoon was that kind of person. Yoon Doojoon was not a 25 year old young adult living in 2013, but a 25 year old young adult living in the '90s. He is mature unlike idol members who typically are 'in your face'. When you look at Yoon Doojoon, you feel that he was raised 'properly' under 'good' parents. And after a long time, my good feelings were dead on.
The idol group timeline started with H.O.T. and passed god and continued with DBSK. If DBSK was passed down the warrior image of H.O.T. then I think that BEAST was the one who was passed down the friendly image of god. BEAST who debuted in 2009 gathered popularity with the members each having a friendly neighbour charm. Of course, the trap was that there were never any dongsaengs like this in my neighbourhood. Out of them, Yoon Doojoon is a multi-idol who also does variety and acting. He who is good at singing, acting, and everything else is currently playing the role Seo Hyunwoo who has a very pure and noble love for Lee Dahae, without any issues about his acting. Woo-ssi shyly smiles as it is still awkward for her to see her son acting. That picture was just like Yoon Doojoon.
"He hasn't studied acting a lot yet as of now. I'm very thankful they cast Doojoon but I am also very worried. I couldn't watch when the 1st episode aired. I occasionally see netizen comments saying he's awkward but it's his first time acting in a drama so I believe he'll get better."
If you're a part of a star family, you can't help but be concerned by netizens' reactions. If I don't see it, I'll feel better but it's my child's business so I can't just pass it; that is the heart of a parent.
"I can't help but see it. I do get worried. How heartbroken must Doojoon be when he sees it. However Doojoon tells me 'Mom, don't look at it' so that I won't get upset instead. He tells me he'll work harder. When I hear those words my heart hurts more."
Yoon Doojoon, who has played sports since he was young, was inspired to go to a sports university. One day in high school, Yoon Doojoon, who never did anything wrong and just played sports, suddenly gave 'notice' that he will be studying practical music.
"We scolded him a lot. Prior to then, we had never scolded him like that and he was chided by his father a lot. Doojoon's best friend went to a practical music hagwon since middle school. I think they've also sung at their homeroom teacher's wedding in middle school. Since then, he had the heart for it. He performed at La Fiesta and it seems he enjoyed music more and more ever since. Until then, I thought if you went into practical music you'd have to write lyrics or compose. So I couldn't believe if 'Doojoon could do it'. At that time, I didn't even think that my child would become a celebrity. Truthfully, becoming a celebrity feels like a far away tale."
Yoon Doojoon didn't give up despite being scolded every day. This was the first time that the model son rebelled.
"He said he'd do it until the end and ended up running away from home and didn't come home for a week. Of course he stayed at a friend's house and went to school every day. I visited the classroom but he seemed to be doing well without any problems. Doojoon's friends even came to me and said 'Mother, Doojoon really wants to do this. Support him' so I gave up."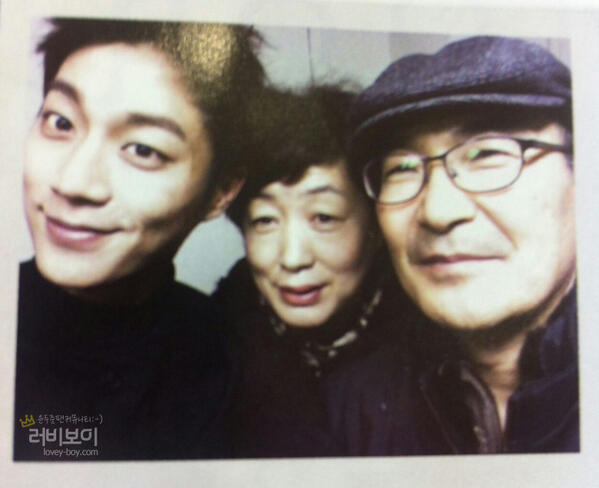 Yoon Doojoon always needed his clothes in the place he put them and, he never wore his shoes switching pairs. He has one nuna and he does aegyo well like a maknae should. Yoon Doojoon's father Yoon Yongchan-ssi who was with us here said, "He's a baby. A baby".
Since he was young, he lived together with his grandmother so not only his parents but he also has a special heart for his grandmother.
"On days he comes home because he has no schedule, we go out to eat often. If we don't bring grandmother along, Doojoon always complains. 'Why didn't you bring grandma?' His heart for her is beautiful."
Yoon Doojoon is stubborn and hard working when it comes to something he is fixed on doing. Doojoon's family was said to be surprised when Doojoon put up with training even when it was really hard.
"When we told Doojoon to do his homework when he was younger, he disliked it and gave up a lot. His family thought he'd give up quickly like the homework he had to do when he told us he'd become a trainee. After practice when he'd come home, the buses would go out of service. When his father would go to pick him up at the subway station and he saw his face, there were times when he thought 'Something bad happened today.' At those times, he would not speak to him. When he came home like that, Doojoon would wear his hat and go outside with his ball. After an hour, he'd wash up and go to bed. He got more calluses from practicing than when he played soccer. Doojoon's childhood dream was to live normally. He said he wanted to become a supermarket owner so he could eat lots of yummy cookies (laughs). Truthfully, idol groups, it's a never-ending war. It's regrettable."
—
CREDITS: Editor Ryu Changhee & Photographer Yang Seonghyuk @ Housewife Life (SOURCE); 러비보이 (loveyboy) @ B-dong (TRANSCRIPTION & PHOTO); poco123 @ B2STRISING (TRANS)