On the afternoon of 2nd February, 2013 United Cube Concert has been held in Seoul's Jamsil Indoor Stadium.
'2013 United Cube Concert' is a family concert held by Cube Entertainment, which houses artists like 4minute, BEAST, G.NA, BTOB, Roh JiHoon and many more.
On this day, fanclubs sent rice wreaths in hopes of a successful concert, while giving support to the artists. A total of 340kg of rice wreath came from BEAST (200kg), BTOB (100kg) and Roh JiHoon (40kg).
Messages on the rice wreath includes, 'What will you be doing when the money comes in~ Buy rice, of course', 'Minhyuk-ah, come here soon, it's your first Cube concert right?', 'From head to toe, our hot Im Hyunsik ♥', 'Roh JiHoon, you should sew yourself, all your charms are popping out!' and many more humorous messages.
According to a representative from the social enterprises, "Despite Cube Entertainment's restriction on tributes in order to prevent competition among fanclubs, many rice came in as well. It was known that fanclubs came to the concert venue and prepared for it very early of the day", he expressed.
—
Trans: loveindacube.wordpress.com
Source: Sports World
—
Additional: 4minute and G.NA fanclubs have also participated in the donation of rice wreaths. Video of CUBE Rice Wreath. Proof Pictures are as below:
Picture credit: myb2uty.com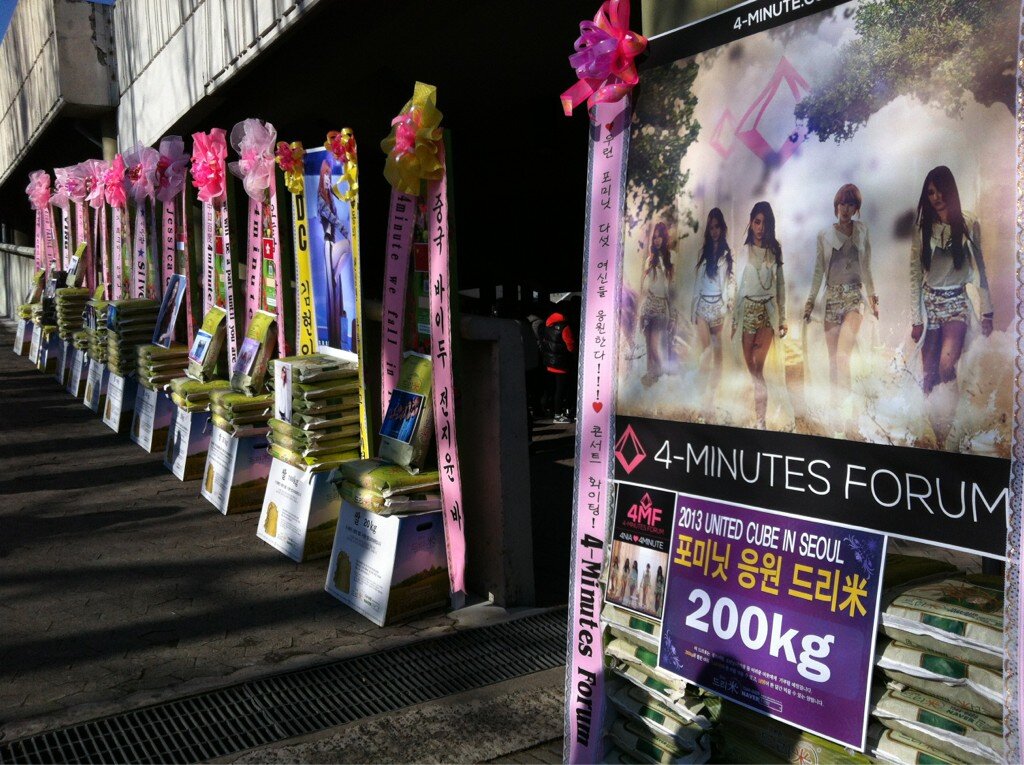 Picture credit: M.Y. Entertainment
Picture credit: DCPuryo
—