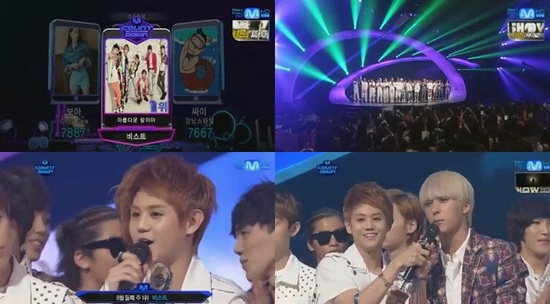 Idol group BEAST is crowned #1 for 2 consecutive weeks in Mnet "MCountdown"
During the broadcast of 'MCountdown" on the 9th, BEAST's title track, "Beautiful Night", has won the #1 trophy over PSY's Gangnam style and BoA's Only One.
In their winning speech, Beast expressed their grateful hearts by saying, "To our members' parents, thank you very much," while not forgetting to thank their close friends [in this context, it actually meant the production crew] and fans.
Also, Yang Yoseob who's the special MC for this week's MCD, couldn't hide his happiness, and commented, "It's like (my) birthday, I feel good".
Other performers include [Omitted].
—-
Trans: MrsDooB2uty @ Loveindacube.wordpress.com
Source: Osen