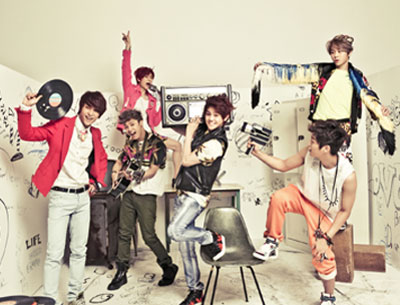 On the 9th, the production team of "The Beast" has appointed Beast as the ambassadors for "K-Comics"
The idea of K-Comics has the same objective as K-Pop, which is to venture into international markets with Korean comics.
The first publication of K-Comics, "The Beast- Beginning of Destiny" will be lead by the global K-Pop wave, as it fuses the image of K-Pop artists with exciting story lines, creating totally new characters in the comics.
Towards this, BEAST, as the leaders of Kpop idol groups, who have been receiving warm welcomes with their recently held world tour concerts in Asia, Europe, and South America,  has further proven their high popularity. Because of this reason, Beast will be appointed as the first ever ambassador for K-Comics.
The appointment ceremony will be held on the coming 16th at [venue omitted]. In the future, Beast will undergo activities to further promote K-Comics in and out of Korea.
"The Beast – Beginning of Destiny" describes 6 Beast members who have supernatural powers and their story to save the human kind. As this story is penned under popular comic artist, Jena, it has received high anticipation from the public.
—
KR-CN: 100度BEAST吧
CN-EN: MrsDooB2uty @ Loveindacube.wordpress.com
Source: Arts News